What other travel opportunities are there for students who don't get to spend a year abroad?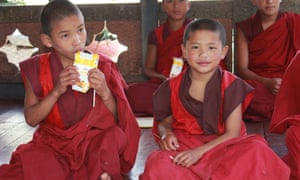 As a language student, I was lucky enough to have a year abroad as part of my degree. I spent it in Chile, and learned a lot more Spanish and real life skills than I ever would have done sat in a lecture hall.
But for some students, a year abroad isn't an option. Either it's not offered as part of their course, or a year is just too long to spend away from home.
For those who don't want to miss out on the benefits of globetrotting while they study but can't take a full year out, there are still many opportunities available that can offer an equally valuable international experience. Here are five suggestions.
Working abroad
Summer jobs and internships are a great way to experience working life in another culture and will help you find out if a career overseas would suit you.
Charlie Hutchinson, 22, a recent graduate from the University of York, spent six weeks during the summer of her second year working in a family bed and breakfast in Castillon-la-Battaile, France.
She says: "Being in a small village where nobody spoke English was a struggle at first as I hadn't practiced French since school. But working with the owners of the B&B helped me to pick it back up quickly."
To find internships abroad, build an online profile with AISECC, which matches students with opportunities. Alternatively, you could become an au pair abroad. Registering with Aupairworld.com will connect you to host families in a variety of countries.
Volunteering abroad
From wildlife conservation, to teaching, to healthcare – getting involved in a volunteering project can help make a big difference to communities worldwide.
Jozef Butterfield, 21, a postgraduate student at the University of York, spent a month during the summer of his second year teaching English to young monks in a monastery in Kathmandu, Nepal.
He says: "Even as their teacher, I learned a lot from the kids about traditions of Buddhism and how it influences their daily lives in the monastery."
If you're interested in volunteering abroad, conservation organisation Frontier can help you organise a placement.
Fundraising abroad
If you enjoy taking part in sponsored cycles or running marathons in the UK, then you may be interested in similar fundraising events abroad.
Robert Houseago, 21, a graduate from the University of Hull, completed a sponsored climb of Mount Kilimanjaro in aid of Childreach International in July this year.
He says: "The climb itself was tough but extremely rewarding as I managed to reach the summit as well as raise money for a good cause."
UK charities run events in a number of different countries. Join a sponsored cycle from London to Paris in aid of Marie Curie or trek the Great Wall of China forMacmillan Cancer Support – check out these charities' online events calendars to see what overseas challenges are available.
Studying at a summer school
Spending next summer studying may not sound appealing, but the idea of summer school is to balance learning with having fun abroad.
Jessie Leach, 21, a recent graduate from the University of York, spent six weeks during the summer of her first year studying Chinese politics at the Chinese University of Hong Kong international summer school.
She says: "Having not spent a year abroad, I feel lucky to have studied in Hong Kong. Meeting students from all over the world and exploring the city with them was a fantastic experience."
Many universities worldwide offer international summer schools: Seoul National University, Peking University and Stanford University to name a few. Visit the university's summer school page and apply online. You can also apply through your university if it offers summer school exchange programmes.
Interrailing around Europe
Interrailing has always been a popular choice among student travellers wanting to travel cheaply while visiting as many countries as possible.
Radha Mehta, 21, a student at Plymouth University, spent two weeks of her summer this year travelling around Amsterdam, Berlin, Prague, Kraków and Budapest.
She says: "It was an unforgettable experience. I learned about the rich history of eastern Europe, as well as the effects of the migrant crisis when I saw hundreds of people camping outside Budapest train station."
A global Interrail pass will entitle you to unlimited travel across 30 European countries – and for under 25s it's much cheaper than an adult fare.
For more information about planning trips abroad including travel insurance, health advice and live travel updates, check out the Foreign Office's travel advice page know before you go.
[Source:- Gurdian]