Average annual loss has risen to £484,000, while spending per pupil has fallen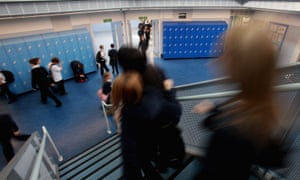 Three out of every 10 maintained secondary schools had budget deficits of nearly £500,000 last year, according to new figures on local authority spending that shed further light on the funding crunch hitting schools and nurseries in England.
The Department for Education figures show that more than 30% of mainstream local authority secondary schools had a financial shortfall in 2017-18, compared with just 11% five years earlier, despite government claims that education funding is at its highest level on record.
Since 2013-14, the average annual loss for secondary schools in deficit has shot up from £248,000 to £484,000, nearly 10% above each school's income.
The budgets of maintained primary schools in England showed a similar trend, with 8% reported to be in deficit in 2017-18, double the 4% reported in 2014-15.
Jules White, a secondary headteacher and the founder of the Worth Less? campaign against school funding cuts, said children with special educational needs and disabilities (SEND) were likely to be the worst affected by the funding shortfall.
["source=cnbc"]