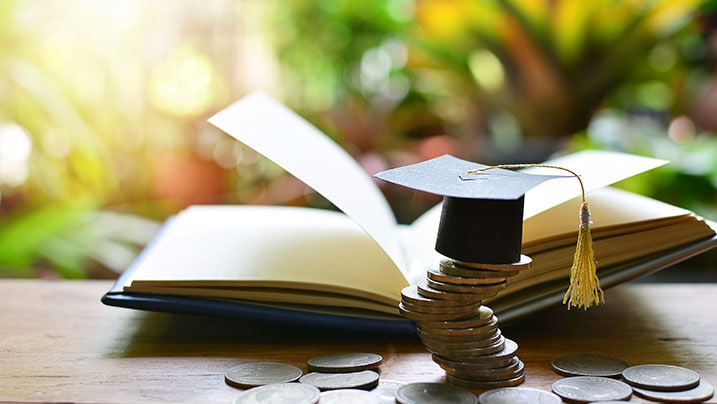 Some dreams cannot be built on your own. An educational loan can provide much-needed financial help to fulfil learning milestones. Here's how
A good education is essential for a student to have a successful career and life. However, with rising college tuition year after year, a student's ability to obtain quality education becomes increasingly difficult. In India, education, particularly in prestigious institutions, is costly. Even if a student is qualified for admission solely based on merit, it is sometimes impossible for them to study at such institutions, because of financial constraints.
For instance, to enroll for undergraduate engineering courses in India, educational costs ranging from ₹5 lakhs to ₹12 lakhs will have to be met. Similarly, private universities can charge up to ₹50 lakhs for medical degrees. Business degrees can cost more than ₹20 lakhs.
Therefore, an education loan for higher studies, such as for an MBA or MBBS, is mandatory. Higher education is substantially more expensive if one wants to go abroad for a course. Again, the fees for private colleges are always higher than for public colleges. Students in such situations opt for college education loans in India. You can also consider an education loan for your academic prospects.
What is an education loan?
Leading Indian banks such as IDFC FIRST Bank provide education loans to help students accomplish their academic goals. With loan terms of up to 12 years, IDFC FIRST Bank offers education loan interest rates starting at 9.5 per cent per annum.
Education loans for India and abroad can be availed for higher education. The lender will determine which courses qualify for an education loan. One can obtain an education loan for pre-primary education courses, such as kindergarten courses. You can also acquire a loan for full-time or part-time courses. You can also get loans for working professionals, for higher education. IDFC FIRST Bank offers you unsecured loans of up to INR 50 lakhs.
How to apply for an education loan?
Applying online is the most convenient method of applying for an education loan. There are two options for submitting an online application. The first is a simple application form that you will have to complete online. You begin by reading the terms of the loan, and upon agreeing, can attach any required documents and submit the form. This will initiate your loan process.
The second option is to apply by submitting all the needed information. The lender will then contact you to negotiate the loan terms before progressing with the application.
You can also apply for a loan offline by:
bringing in the required documents to your nearest bank branch
discussing the loan terms with a representative
filling out the application, and
submitting it in person
You have the option of calling the lender or stating your interest in receiving a call-back. Next, you can talk about the loan terms and apply for a loan.
Advantages of applying for a student loan

Upto 100% financing options to choose from
Income tax benefits under section 80E
You can avail of education loans for both Indian and international studies. Choose from over 3,200 universities across 25+ countries
You could avail of loan disbursement before you apply for a visa (depending upon the lender).
Collection of essential paperwork will happen at your doorstep.
Children of bank employees may get the benefits of favourable interest rates.
Female students can take advantage of special interest rates offered by some banks.
After completing the course, you'll be eligible for a one-year moratorium. You are not required to make any loan payments during this time.
Advantage of tax benefits on interest paid for up to 8 years.
An education loan can be highly advantageous to you, especially if you are hoping to move to a different location for your higher education. IDFC FIRST Bank offers its customers unsecured loans that can be utilised for educational needs. What makes them so appealing are the interest rates and the easy payback options.
The fact that you can get a personal loan for education without collateral and with a starting interest rate of 9.5% is nothing short of a blessing. Don't procrastinate the decision on which dreams are dependent.
There's more! The moratorium period offered to you includes your course duration and an additional 12 months as grace period. This is subjected to the institute classification done in the IDFC FIRST Bank's policy. The interest accrued during the moratorium period will be added to the outstanding loan amount at the time of repayment commencement. The EMI repayment process is thus, determined on the combined amount. It's convenient, flexible and made easy, just for you!
Let's take a quick look at the types of documents a candidate would require for availing education loan:
Student:

Photo ID proof
Proof of residence
Passport sized photograph
 Proof of admission
Fee structure document
Salary slips of experienced candidates
Visa copy
Academic documents
Co-applicant:

Photo ID proof
Proof of residence
Passport sized photograph
Income related documents
Collateral documents:

Property document
FD documents
Wait no more, make dreams a reality with IDFC FIRST Bank's Education Loans.
["source=idfcfirstbank"]