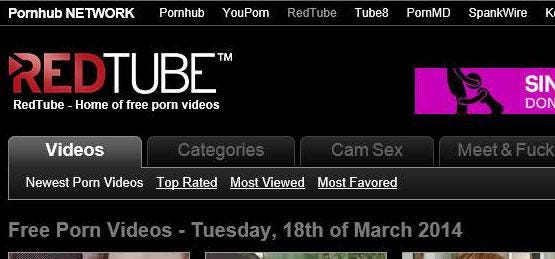 A growing group of UK students is being caught in the net of aggressive German copyright lawyers targeting illegal downloads. The unsuspecting students are undertaking their "year abroad" in Germany. At the same time, the copyright lawyers have recently set their sights on porn-streaming website Redtube.
Thousands of Germans were on the end of a nasty surprise just before Christmas, when they they received Abmahnungen (written warnings), letters from lawyers demanding payment of €250 to avoid further legal proceedings for alleged breaches of copyright. Many of those concerned had only streamed video from Redtube, not downloaded content.
The Süddeutsche Zeitung has revealed that this recent batch of letters was the result of actions planned at a meeting of veteran German copyright lawyers. They arranged to use software to get the IP addresses of users of the site, while at the same time contacting those who possessed the copyright so that they could send the Abmahnungen. The letters were meant to empower copyright holders to fine those who steal their intellectual property, without having to go to court. But German lawyers are accused of exploiting Abmahnungen to turn a profit.
The lawyers then contacted Cologne's regional court to allow them to find the addresses that corresponded to the IP addresses. The court has since expressed misgivings, stating that the petitions mentioned only downloading, and not streaming. The legality of the use of the software to find the IP addresses of users of the site is now also being investigated.
The fines were met by a muted response by those targeted. Many – Die Welt estimates 30 per cent – paid straight away.
But it is not just visitors to porn sites who have been hit by the copyright infringement fines. According to the German national consumer union, in the last few years an estimated 4.3 million Germans have been issued fines for general copyright infringements online. The consumer's union has spoken of an "Abmahn industry". The fines can be enormous, ranging from hundreds to thousands of euros just for one download.
British students affected
Among those caught out by the aggressive prosecuting practice of lawyers is a growing group of UK students studying in Germany.
Many students choose not to pay up, running the risk of further litigation if their case is acted upon. One who wished to remain anonymous told The Independent: "I received a letter, or should I say booklet, in October, from the German courts, written in very high German, and using a lot of legal terms. I flicked through the many pages and found a fine of €800 at the end and immediately panicked!"
The student wrote twice for an explanation, "terrified" and unable to pay or defend herself in court in German. In reply, she received only a notice stating that if she didn't pay up they would take her to court. "That was at the start of December and I have not heard anything since. Now the correspondence has stopped, I still don't really know where I stand in the situation. €800 may not be a lot for the German court but it certainly is for me."
Some students say they are so intimidated that they agrees to pay fines for content they didn't even download. English student Alex Gabriel describes in a blog post his dismay, when in Berlin in 2011 two of his flatmates fingered him for a film and record that he says he had not actually downloaded.
"A court case at the best of times is hard — this was my year out as a language student, my German was nowhere near strong enough, and the thought terrified me." Alex decided in the end to pay the £2,000 fine.
Students are advised to contact a lawyer immediately if they receive a letter demanding payment for copyright fines.
[Source:- Independent]