Overseas universities are undercutting their UK counterparts with courses taught in English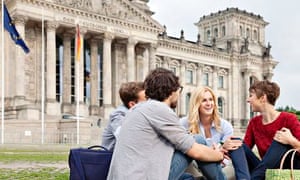 Daniel Hughes had always wanted to take a master's degree but the cost of the qualification in the UK put him off. The current average price of a UK Masters degree is £6,000 a year, with some universities charging more than double that figure.
"I was thinking of going to study abroad after graduating from Bangor University and working in the NHS," he says. "I could speak a bit of Swedish and the master's courses in Sweden are free, so it made sense to look there."
Now 29, Hughes is in his second and final year of an MA in media and communications studies at Stockholm University and is writing a thesis on why Scandinavian noir TV series are so popular with British audiences.
He is one of a growing number of UK students opting to study abroad in Europe at universities that offer master's degrees in English for a much lower fee – or no fee at all.
According to a report from the Institute of International Education, the number of European master's courses taught in English has mushroomed to over 6,600, up 42% in the past two years, with the Netherlands, Germany and Sweden leading the way.
Like Sweden, German public universities charge no tuition fee, although the small number of private universities offering professional master's degrees do. "German universities have made it a priority to attract postgraduates from the UK," says Andreas Hoeschen, head of the London office of the German Academic Exchange Service.
"For German universities it's not about financial gain – it's about internationalism. German students benefit from having a more international campus and in terms of employability it's a big plus for young people to take a master's abroad," he adds.
Nicholas Crawford, 23, is one such student, studying for a two-year master's in public policy at the private Hertie School of Governance in Berlin, having graduated with a degree in philosophy from Cambridge University. "For someone like me, who wants to pursue an international career and travel around for work, it makes sense to have a university on your cv that is not just from your home country," he says.
Although the Hertie School charges tuition fees, it is cheaper than its British equivalents. Crawford is on a 50% scholarship, which means his fees are reduced to about £11,000 over two years.
A requirement of the master's is that he undertakes an internship and Crawford hopes to intern in an organisation that is related to diplomacy. Although he is enjoying himself, he believes the teaching style, which sees him closely assessed on a series of tasks, makes the course more like an undergraduate than a postgraduate degree.
Maastricht University in the Netherlands meanwhile, a relatively new university established 30 years ago to revive an old coal-mining town, has adopted problem-based learning.
This encourages students to learn by posing problems, teaching one another, making presentations, doing research and working in groups. The students are in charge of their own learning and develop an international outlook, as a result of mixing with other young people from 50 different nationalities.
"My main reason for coming to Maastricht is the programme," says Nadia Grant, 23, a graduate from Glasgow University who is doing a two-year master's in international law that incorporates languages. "I looked everywhere in Europe and I couldn't find another master's that includes languages."
She likes the teaching style, although she says it took some getting used to. At Maastricht, her courses change every seven weeks. Two courses run simultaneously and the result is that she covers a lot more ground than she would in the UK. "It is really intense," she says. "You can't let up. You are constantly on the go." The result is that she is working harder and doing better.
Margaret Price, another Maastricht postgraduate, is studying for a one-year MA in European studies, and makes no bones about the fact that she chose it because it was cheap. "Also, I had always wanted to live abroad," she says. "It was the best way to do it and to have a good product at the end of it."
The fees are lower and there are generous loans and grants from the Dutch government.
Like Grant, she found the course much more intense than she was used to in her first degree at the University of Bristol. This was not only because so much was expected of her, but because she was not accustomed to the style of teaching. "It is much more involving and interactive," she says. "It was daunting at first. You have to find your confidence – and then it is very stimulating."
Studying for a master's in mainland Europe ticks three important boxes: it is cheaper than in the UK; the education is high quality; and it gives you an international experience that could open doors to the career of your dreams.