Dating a native can be useful when you're learning a language, but it's not a magic formula for fluency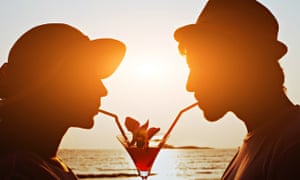 Looking to meet the love of your life? You might just find them on your year studying abroad. Over a quarter of Erasmus participants meet their long-term partner while studying in another country, and around a million "Erasmus babies" have been born since 1987, according to research by the European Commission.
Dating a native speaker is also touted as the holy grail of language-learning. When I went on my year abroad to Paris, everyone from relatives to colleagues and strangers in bars told me I needed to find a French lover if I wanted to improve my shaky language skills.
I met Antoine through a language exchange. He was a few years older than me, worked in marketing and seemed nice enough. We had little in common and probably would have been better off staying friends, but when he asked me out, I said yes.
Surely in no time I'd lose my English accent, speak French like a native, and ace my final year speaking exams?
But actually, having a foreign accent can be what attracts people in the first place, says Pete Beaumont, a recent Oxford University graduate. "People in Paris absolutely love an English accent, they find it charming."
Beaumont read law with French law, and spent his third year studying in the French capital, where he got together with Olivier, his first serious boyfriend.
They met at a New Year's Eve party and instantly hit it off, before going on a few dates and beginning a relationship. "Exclusivity usually happens earlier in France than in the UK or US," says Beaumont. "You never date multiple people at once."
They would visit cafes in the Marais quarter – Paris's gay district – or go out for dinner and drinks with Olivier's friends. Beaumont's French improved dramatically. "Although I studied law and didn't have language classes, by my final year I was better at French than many French language students. I could even correct their mistakes."
In Beaumont's view, dating a native speaker is the best way to learn a language. "Yes, there are other ways to practise, but it's difficult to make French friends at university. People tend to stick around with the friendship groups they've known for years."
Jess Ing, a student at the University of Leeds currently on her year abroad in Valencia, says local students in Spain can also be cliquey. Getting together with her flatmate Alex, a Spanish local, has been the best part of her year abroad.
"He chased me from the start, giving me massages and being super nice to try and pull me in."
Still living in the same flat, they have now been together for nine months. But Ing says the relationship hasn't improved her language skills because Alex speaks perfect English. She made an effort to speak Spanish at the start but has since given up.
"When you're in a couple, the other person becomes impatient and can almost second-guess what you're going to say, so they cut you off and finish your sentences." Besides, Ing finds it frustrating when she does try to speak Spanish with her boyfriend because he usually doesn't understand her.
The language barrier was also a stumbling block for Beaumont in the early days of his relationship with Olivier. "We had some funny miscommunications," he says.
"For months, I was saying 'je t'aime bien' to him, thinking it meant 'I love you a lot', but it actually means 'I like you'. Then one day I finally said 'je t'aime' and he was shocked. I thought I'd been saying it all along."
Beaumont and Olivier stayed together for two and a half years, but broke up when the pressures of a long-distance relationship took their toll. His advice to other year abroad students? Be open to meeting someone. "Don't assume that a relationship has to have a life expectancy."
Ing is equally optimistic. Her boyfriend is planning to move to the UK and find work in Leeds so they can be together during her final year.
As for me, I dated Antoine for five months before returning to England. There was never any question we'd stay together – and I do wish I hadn't caved in to the belief that dating a local was a year abroad essential.
I always spoke French with Antoine, and my language skills did improve – though that was partly because I made French friends and put a lot of effort in.
Just going out with someone is not a magic formula – especially not for many of the Brits I met whose partners found it adorable when they spoke broken "Franglais", or made grammar or punctuation mistakes. If you're really keen to improve, make friends with a native speaker who mercilessly corrects your errors.
[Source:- Gurdian]