The University of Alabama's American football team represents the leading source of pride for the state's citizens. It characterizes the notion of "school spirit" felt by the school's students. It also provides a staggering source of revenue for the institution itself with annual profits posted at an estimated $120 million. Coach Nick Saban is on a new contract reportedly worth $7 million per year. And all of this produces an unstoppable sporting juggernaut.
Located in a very conservative region, blighted by ongoing social and economic struggles, the "Crimson Tide" puts Tuscaloosa on the national map. Revered former coach Paul "Bear" Bryant revolutionized the team's fortunes during his 25-year tenure between 1958 and 1982, in which he guided the team to an unprecedented six national championships. His record of 323 wins remains the collegiate record. However, his bullish support for racial integration of the team dwarfs even his statistical success and defines his legacy. During a tumultuous era in which the Deep South sought to make permanent the relegation of African Americans to second class citizens, black defensive ends and running backs made UA's glittering achievements and supremacy possible.
Today, the game-day spectacle is an unforgettable experience in which an unfettered, red-tinted outpouring of passion and pride sees a 48-hour-long citizen invasion of UA's usually tranquil campus. SUVs park on manicured lawns and rows of portable toilets create a scene reminiscent of a music festival.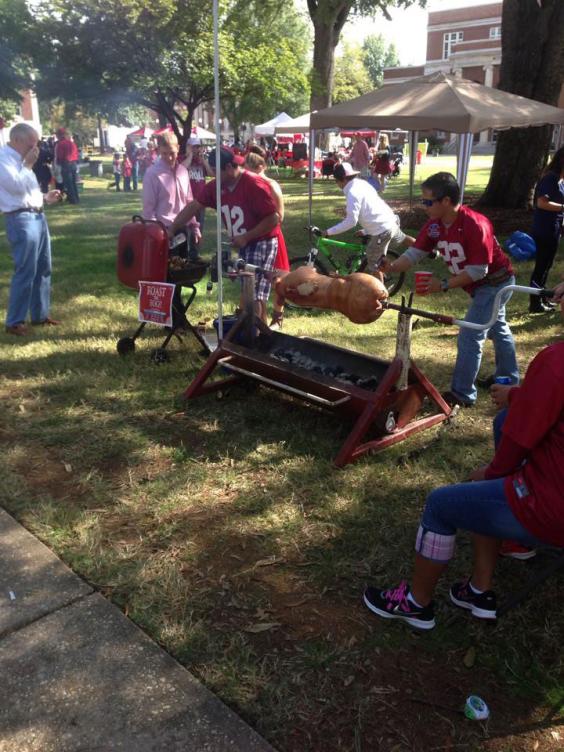 The phrase "roll tide" serves a dual function as a sporting call to arms obediently yelled from the terraces following a score, as well as an endearing phrase of recognition amongst fans. Suited frat boys entertain glamorous sorority girls in a very traditional manner. Notably, college students experience a unique personal sense of identification with the team's stars, whose hybrid status as celebrity-students exists only in America. The university's policy of making undergraduate tickets entirely free serves to make attendance accessible and strengthens students' sense of college identity.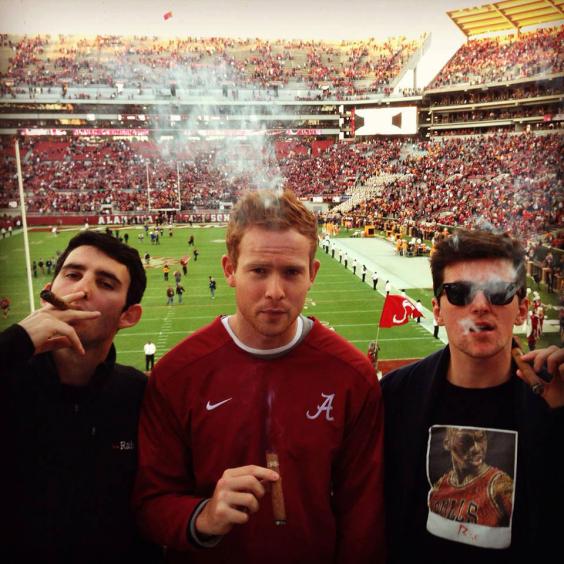 Entire families erect gazebos under which members of all generations congregate and indulge in barbequed meats, pre-prepared pastas and scrumptious desserts. There is no shortage of drink. UA and its police force willingly turn a blind eye to the blatant and widespread violation of the university's no alcohol policy in a rare showing of pragmatism. Make no mistake, Alabamians regard tailgating as more than just pre-match formality. For them, this is a celebration of current familial fortune in which they extend their southern hospitality to all present.
Upon entering the huge 101,000-capacity Bryant-Denny stadium, supporters' senses are assaulted from all angles by ubiquitous crimson and white. The team's loyal 400-strong band plays its anthem "Rammer Jammer", while the inescapable smell of nacho cheese can't divert one's attention from countless cheerleaders. It is almost as if for three afternoon hours every fortnight during autumn, Alabama embraces hedonism and unabated revelry. The authorities even permit the tradition of smoking cigars in the stadium to celebrate victory over Tennessee.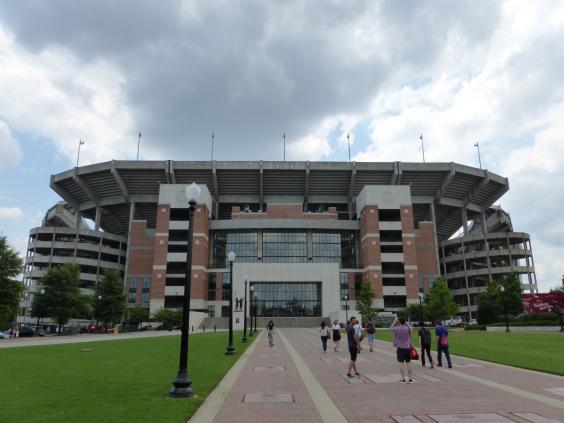 The halftime entertainment, with its kiss cams and dance competitions, confirms the stereotypes of American popular culture seen on movie screens worldwide. When the team wins, normal service is resumed. Alabama's dominance is, after all, the status quo. Recently however, following a dramatic defeat by Auburn, a low-hanging, inescapable cloud of melancholy and regret engulfed the campus. The pill of realisation that idolised quarterback AJ McCarron would not end his tenure at UA with another championship ring was bitter indeed.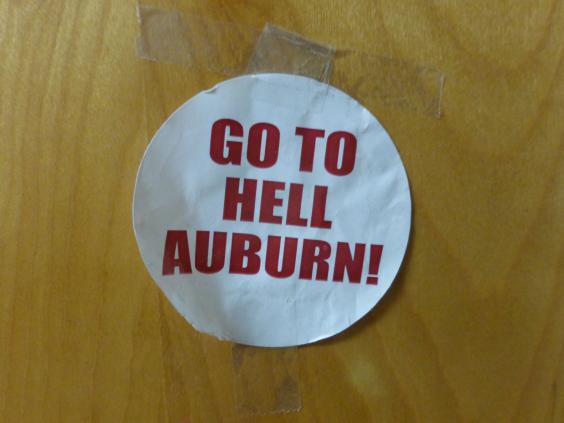 The Crimson Tide's combined on- and off-field success has contributed to their gleaming pedigree. This in turn enables them to cherrypick regional and even national high school talent. A place on the school's program offers underprivileged and impoverished teenagers a golden ticket to indirect social ascension; there are currently 38 'bama graduates playing in the NFL. Players are given the opportunity to represent the state's most famous team whilst simultaneously gaining a degree. However, the cynics amongst us would argue that strict training schedules leave little room for study. Therefore, there is more than a hint of suspicion of academic leniency at play here. This further reinforces the team's influential grasp on collegiate proceedings.
The university's American football franchise is a colossal: matchday food sales generate significant revenue, Nike and Ralph Lauren manufacture the team's merchandise, and television networks pay enormous annual contracts for nationwide broadcasting rights (13.8 million viewers watched the 2013 Iron Bowl). Should Alabama's hierarchy give the green light to the proposal for the right to sell alcohol in the stadium, a commercial dogfight will ensue to fill that lucrative vacuum. This alludes to the notion of a merging of public and private interests that meets on T Town's campus. The magnificent stadium, which lies in between sorority row and various lecture halls, serves as a physical reminder of the magnitude and power of the college's franchise. College players fulfill unique hybrid roles as famous, sports star students. So far, the university has managed this delicate balance admirably. As long as this continues, the Crimson Tide(al) wave looks set to destroy everything in its wake.
[Source:- Independent]