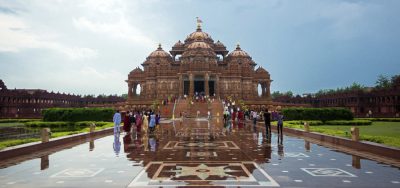 New Delhi, India is the latest addition to Boston University's list of study abroad destinations, becoming available to BU students for the first time in the summer of 2018. The new locale is intended to provide students with a dynamic, all-around cultural experience.
The six-week-long study abroad program, titled "New Delhi India: Past, Present, and Future," will run from late May to late June with an application deadline of March 1. Agra, Jaipur and Landour are among the destinations students may visit while participating in the program.
Program manager Corey Blackmar said New Delhi, India's capital, is a central hub of Indian culture, offering an abundance of unique opportunities for students to gain hands-on experience in the city and its surrounding areas.
"You can find really all aspects of Indian life there," Blackmar said. "From business to tourism to religious-focused travel to yoga, there are a lot of really dynamic facets to this country, and they're sort of all centralized in New Delhi."
The two 4-credit required courses draw attention to the religious, cultural, historical and linguistic makeup of the Indian region. While the same courses are offered at BU's Charles River campus, having firsthand contact with a country and its locals can provide an unforgettable experience, said Leilani Olson, BU Study Abroad's associate director of institutional relations.
"Students can stay here in Boston and just sit in a classroom," Olson said. "We want to make sure that, while getting the requirements that they need to fulfill that, they're also taking advantage of their surroundings in the host culture."
Questrom sophomore Keyur Patel said he visited New Delhi with his family when he was younger and enjoyed the "pretty life-changing" experiences he had there. While it wouldn't be his first choice for a study abroad destination, he said, the fact that it is offered in the summer gives it a unique appeal.
"New Delhi could offer a new outlook on life, because I know when I was there, there [was] a lot of poverty — you get a different view of life," Patel said. "It was completely different from the world where we live [in] today. It was a good experience."
India's role in the global economy and global politics made it an appropriate destination for expansion for BU's study abroad program, said David Lamitie, the associate director of program development and external programs.
"India is both a dynamic engine of transformation and innovation in a vast variety of fields," Lamitie wrote in an email. "Many graduates of U.S. universities will likely find that their careers — sooner or later — will engage them with the peoples, industries, issues, politics and cultural dynamics of this both ancient and modern vibrant society."
Lamitie, who has been involved with the India program since its inception, said the structure of the program is still being finalized, but plans are in development to feature guest speakers for participating students, visits to historically and culturally significant sites and overnight excursions to experience India's diversity.
Other BU students said they were glad to see BU introducing new study abroad destinations.
College of Arts and Sciences junior Madison Hardee studied abroad in Madrid, Spain and said that she "wouldn't trade it for the world." She added that she thinks it was a good idea for BU to expand its study abroad options.
"Not every program is a good fit for every student," Hardee said. "The more options they have, the better."
Hardee said studying abroad changed her outlook on life. She said India's battle with poverty could provide a unique perspective for many participants.
"From my personal experience, I'm just much more appreciative of life experiences rather than materialistic things," Hardee said. "I feel [the New Delhi program] would humble people and make their experience a lot more rewarding."
Sam Millstein, a junior in the College of Communication, said that while he has not studied abroad, he thinks it's great that BU is adding more options.
He said his friend's mother is from New Delhi, and while India would not be his first study abroad choice as a film and television major, he sees the value of exploring Indian culture for other students.
"I don't see any reason why there should be a limit on how far BU reaches around the world to send students abroad," Millstein said. "Diversity is always a good thing, especially when it comes to education."
source:-dailyfreepress