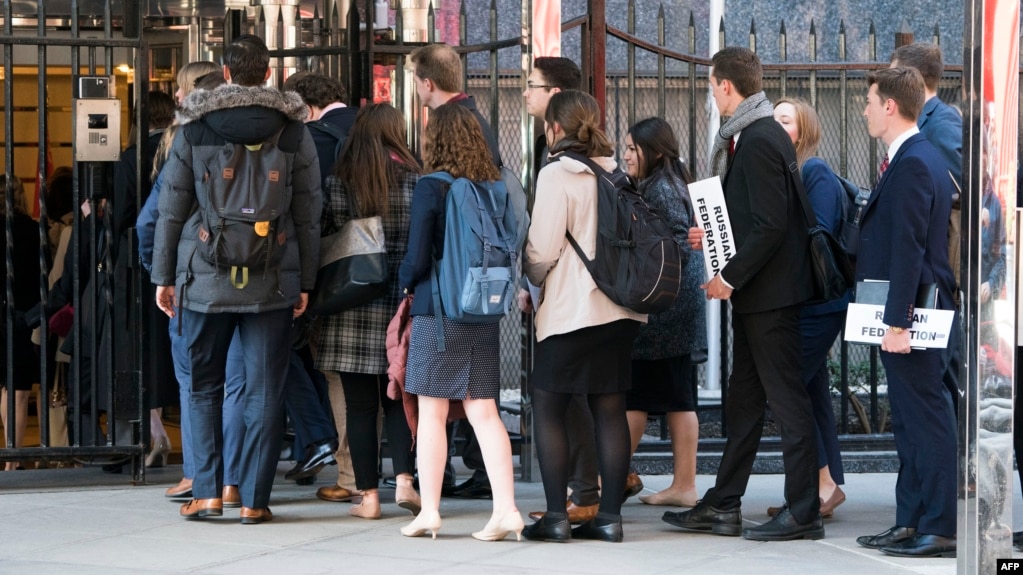 Russia has launched a campaign urging about 60,000 of its citizens studying abroad to return home.
The marketing campaign is responding to "Russophobic attitudes" toward its citizens and students living abroad, according to the state-run RIA-Novosti news agency.
The campaign, announced April 16, is led by a government agency in charge of shaping Russia's image and supporting citizens living abroad.
Governments in many countries — especially Europe — "have increasingly taken on a harshly expressed anti-Russian character," the agency asserted.
Many of those countries, including the U.S., have accused the Russian government of ordering the poisoning of former Russian military intelligence official Sergei Skripal and his daughter on March 4 in Salisbury, Britain. The two were seriously injured.
Russia has denied involvement in the attack.
The incident led many Western nations to expel dozens of Russian diplomats. Russia answered by expelling diplomats from Western countries.
Another official told the Kommersant newspaper there were concerns that young Russians may experience difficulties in nations expressing "unfriendly" feelings about Russia.
"It's an important question of safety for our youth, who study abroad. There are serious concerns that young Russians may fall victims of provocations in countries that have shown an unfriendly attitude toward our country," said Oksana Buryak, moderator at the presentation of the Rossotrudnichestvo project on bringing Russian students back.
The Moscow Times has reported that an agency official said the program was mainly designed to seek the return of Russians studying in Britain.
Schools across Russia are ready to accept Russians back to continue their studies at home, said Genri Sardarian, head of the department of management and politics at Moscow's MGIMO University.
"We often overrate foreign universities and underrate the level of education in Russian institutions," Sardarian said.
The worsening ties between the U.S. and Russia have made it more difficult for some American students seeking to study in Russia.
Stanford University in California suspended its study-abroad program in Russia after the U.S. State Department in January listed Russia as one of the most dangerous countries to visit. The advisory cited harassment and terrorism.
The U.S.-based Association for Slavic, East European and Eurasian Studies said in a statement that most universities feel they can trust their Russian partners to keep students safe at their programs. Most of its members still operate study-abroad programs, it said.
The Russian marketing campaign is called "Highly Likely Welcome Back," reflecting comments made by British Prime Minister Theresa May that a British investigation found it "highly likely" Russia was responsible for the poisoning.
The Russian agencies overseeing the campaign are officially called the Federal Agency for CIS Matters, Compatriots Living Abroad, and International Humanitarian Cooperation.
source:-voanews