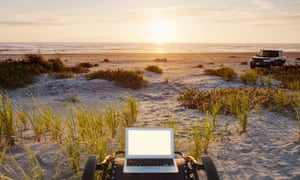 Whether you work on a bamboo table against the backdrop of a sun-kissed beach in Thailand, or your meetings are held via Skype from a co-working hub in Bali, we want to see photos of where in the world you work.
More than 13% of us now work remotely. Not all of us are overseas – perhaps your workspace is closer to home, in a local cafe or even your own home office at the back of your garden. So for anyone who operates outside of the traditional office, we want to see photos of where and how you work.
We will bring together our favourites to be published on the Guardian Careers site. The contributions we pick will also be shared across our social media channels.
Share your stories, photos and videos by clicking on the blue "Contribute" button on this article. You can also use the Guardian app and search for "GuardianWitness assignments", which you can add to the homepage to keep up with all our assignments.
GuardianWitness is the home of readers' content on the Guardian. Contribute your video, pictures and stories, and browse news, reviews and creations submitted by others
[Source:- Gurdian]