Taught in English and for a fraction of UK costs, are Europe-based postgrad courses a no-brainer?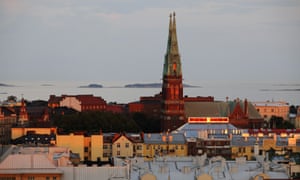 If you want to do a master's degree but need to keep costs down, studying in Europe may be a solution. Over the past five years there has been an explosion in the number of graduate programmes taught in English at universities in non-English speaking nations.
Even better, master's courses lasting one or two years are free of charge in Norway, Sweden, Finland and Denmark for citizens of the European Economic Area. Universities in the Netherlands offer the greatest range of English-taught master's and although they charge fees, they are a fraction of the equivalent UK courses. Some master's taught in English are free in Germany too, although they may ask for a small contribution to cover student union fees and travel.
The first students in England to pay the £9,000 a year tuition fees graduated this year and, according to a survey by TARGETpostgrad.com, two in five said they would consider universities abroad for further study. Cheaper fees and the desire to experience a different culture were the two main reasons cited.
"It's clear from students' responses that it's not a reflection on the quality of postgraduate education in the UK – only 21% believe the standard is higher overseas. It's just that study outside the UK has become more affordable – and more courses are being taught in English."
Of course, the cost of living in Scandinavian countries is high – but that is offset by higher wages. UK graduate Nathaniel Silva-White has been able to fund his way through a European studies two-year master's at the University of Helsinki in Finland by working as a cleaner in term time around his scheduled teaching.
"Higher education is free in Finland for people from all over the world, so you would think it would be almost impossible to get a place, but I think people don't always think about Finland. And yet it has very good universities and high standards," says Silva-White, who has a history degree from Swansea University. "It is expensive here but I've got a studio apartment for €495 (£363) a month and I earned enough cleaning on cruise ships in the summer to cover my rent," he adds.
Maastricht University in the Netherlands reports that master's applications from UK graduates have nearly doubled, from 190 in 2013 to 374 this year.
Cheap fees in the Netherlands were a lifeline for Hannah Muirhead, who graduated from Maastricht with a master's in public policy last year. "I hadn't been thinking of doing a master's degree but then I somehow managed to get a first, so I thought: 'Why not?' The ones I looked at in the UK would have taken two years and were crazy expensive. That probably would have been the end of my master's degree search if I hadn't stumbled across the United Nations university page and seen that they offered a one-year master's in public policy at Maastricht University. It cost about £1,400."
Muirhead, whose first degree was in politics and international relations at the University of Aberdeen, is now working in Chicago for LTFHC WAVE, a charity that campaigns to protect the Lake Tanganyika Basin in Africa.
"I would 100% recommend doing a master's abroad," she says. "The variety of people I met and the experience of living in a different country was a stepping stone to going farther into the world and it showed I was capable of adjusting to new environments."
It may seem a big step to live in a country where you don't speak the language, but employers place huge value on an international outlook. Studying for a master's abroad, within a safe university environment, could provide that extra dimension.
[Source:- Gurdian]