The University of Alabama in Huntsville (UAH) Honors Study Abroad Grant for Airfare (SAGA) allows Honors students to apply for funds to cover airfare for approved study abroad programs of their choice. The purpose of SAGA is to enable opportunities for Honors students to study abroad, provide a unique way to earn Honors credit, and enhance international awareness and students' knowledge of other cultures, languages, and lands. The Honors College works closely with the Office of Study Abroad to identify study abroad opportunities that are the right fit for Honors Students. The money for this grant comes directly from the Honors Student Fee.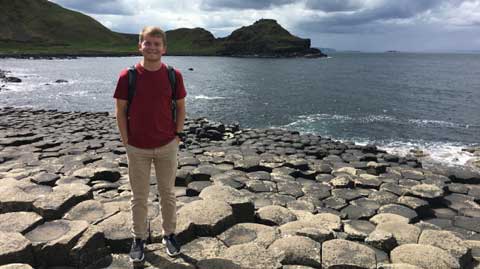 Kramer Crider
The Honors College awarded the SAGA to fifteen Honors Students. This summer and fall, they will travel to such destinations as Ireland, Costa Rica, New Zealand, India, Germany, and Ecuador. Students who receive the Honors SAGA must provide a weekly "share" of their experiences while abroad: the Honors SAGA blog gives students the opportunity to "share their SAGA." So far, students have used the blog to share trip photos, describe their explorations and personal reactions to destinations, as well as give other students a "how-to-travel" guide when it comes to their destination. One common theme is that most of SAGA travelers encourage students who may be thinking of studying abroad to "get out of their comfort zone!" The SAGA will be awarded twice per year, in February and September. For more information on the Study Abroad Grant for Airfare, visit http://www.uah.edu/honors/study-abroad or contact the Honors College Advisor, Beth Wilson.
 [Source"timesofindia"]
.