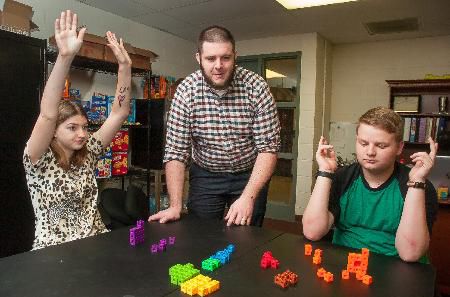 Several Byng Junior High students sat in a classroom Wednesday, using brightly colored blocks to build models of an isometric drawing on the screen in front of them.
The students were divided into teams, with each team using a set of blocks to create their model. The competition was designed to teach the students the fundamentals of pre-engineering design, creating and sketching three-dimensional objects.
The activity was part of a design and modeling class, which is new to Byng Junior High this year. Students taking the class will learn to use industry-standard 3D modeling software. They will also learn more about the pre-engineering process, dimensioning techniques and designing products for production.
The design and modeling class is being offered for the first time this fall, and an automation and robotics class will be available next semester, said the school's STEM instructor, Kaleb Gordon.
"All the kids will have to take design and modeling — that's the first course," he said. "That introduces them to expressing different ideas and being able to share and communicate the ideas effectively. And then automation and robotics will start with mechanisms and then go into coding. Their culminating project is making a completely automated assembly line."
Byng Junior High began offering classes in design and modeling, as well as automation and robotics, this year after receiving a $25,000 grant for STEM (science, technology, engineering and math) classes from the Oklahoma Department of Career and Technology Education. The agency provides leadership and resources to support a statewide system of career and tech education.
The start-up grant made it possible for Byng Junior High to offer a curriculum designed by Project Lead the Way, a nonprofit organization that provides programs in three STEM-related areas. The school provided some of the equipment for the curriculum.
The school is using Project Lead the Way's Gateway curriculum, which offers activities in computer science, engineering and biomedical science. The curriculum, which consists of 10 different courses, gives middle school students a chance to begin exploring those subjects before they start high school.
The new classes are the first steps in a multi-year plan to create a pre-engineering track for Byng students.
Exploring ideas
Gordon said the students seem to enjoy the design and modeling class because it offers an alternative to traditional classes. He added that the class gives the students more latitude to explore different ideas.
"I just kind of tell them, 'These are the requirements that I need for you to meet by this time, but it can be any idea that you have,'" he said.
Gordon, who started out teaching math, said he was originally unsure about teaching the design and modeling class. He changed his mind after Project Lead the Way introduced him to the Gateway curriculum, and he became even more enthusiastic about the class after he completed two weeks of curriculum training over the summer.
"I was like, 'This is great. This is awesome — brand new,'" he said. "It's something that I would have loved to have taken in high school."
Gordon said he thought the STEM classes are valuable because they provide students with the tools they need to pursue tech-related careers in the future.
Assistant Superintendent Kevin Wilson said district officials are glad they can offer the new classes to students.
"It's made our kids excited to get into this program, and I'm excited to see where it's going to go in the future," he said.
["Source-timesofindia"]