Beat high fees by netting a scholarship – or opt for a country just stepping into the international university market
Read more about studying abroad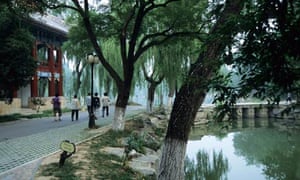 If you want to pack up your laptop and head away from cold, drizzly and increasingly expensive Britain for your undergraduate degree, you're not alone. Winter in Grenada sounds like it might be bearable. Studying in Sienna as spring approaches could be balmy. Prague is going to be great at pretty much any time of year.
But what if you have an itchier foot and want to explore further afield? There's a whole world of higher education out there: America, Australia, Japan, Indonesia, Malaysia or China sound like fun?
Studying outside the EU has always seemed too expensive, the kind of expensive that virtually no-one could afford. But now that UK fees have been hiked up to £27,000 for a three-year degree, deciding you want to study in a country outside the EU may not seem quite so profligate.
"There are colleges in the US where it's not that much more," says Toni Hargis, a British expat and mother of two teens who has just written The Stress-Free Guide to Studying in the States. She may be exaggerating slightly, because she also says that "from $23,000 year is about the lowest I've seen for an international student". That's around £15,000, close to double the top yearly UK course fee. But there are, she points out, realistic ways of substantially offsetting your costs.
"There are a lot of scholarships here," she explains. These can be for sporting prowess or academic achievement, and can cover part or all of your tuition and living costs. "And yes," she adds, "you are able to apply as a non-US student. For the most part, these schools [universities] have huge endowments and can do what they like – it's their money."
One of the most serious problems facing young people who want to study internationally comes in the planning and preparation phase. Understanding a different educational system, its exam requirements and its deadlines, can trip you up before you've even filled in your application.
For American universities, you need at least 18 months, Hargis warns, to do your research and complete your applications. That means starting to do some serious thinking from, at the latest, Christmas of your first year of sixth form. And be aware that each application will cost you between $50 and $100, so you want to be whittling down your choices carefully rather than adopting a scatter-gun approach.
Universities will help if you approach them, says Hargis. "The admissions officers here are extremely open and knowledgeable, and they will welcome calls and are very transparent." But be warned: if you decide to pay for one of the many consultants who advise on US university entry, be careful to choose one who does not have a vested interest in which institution you select. Some, says Hargis, work on commission from certain colleges, "so they will perhaps recommend schools that are not necessarily in the student's best interests".
What about other parts of the world? Australia is another popular choice, and there are universities there which offer courses at the same sort of fee levels as here in the UK. But, says Joanna Turner from consultants Degrees Ahead, the top institutions charge more like £20,000 a year.
She points out that you need to have access to serious amounts of money for any international degree, because you won't be eligible for any of the higher education loan finance options or grants that you're entitled to if you stay within the EU.
Australia is clearly a very long way to go to check out whether you think a particular campus will suit you – and a long way home if things don't work out. But there are valid reasons to consider it, she says. "When it comes to the oversubscribed areas in the UK – degrees allied to medical subjects, for instance – students will look all over the world to see where they can get a place."
There is another, very practical, reason that the bank of mum and dad may be willing to stump up for Australia, says Turner. "Parents feel that the economy and outlook there is a lot healthier than in this country. And if you study there for three years, you get a two-year work permit, and then the chance to extend it."
Anna Boyd works for The Student World, which hosts international university recruitment fairs all over the UK. She says students need to look beyond the glamour and excitement of international study and ask themselves if, truthfully, they think they'll thrive under the stresses of living in a very different culture so far from home.
If the answer is yes, then why not go somewhere completely different? "China has potential, and there's also Malaysia and Qatar which have been off the radar until recently, but are starting to run courses in English," she explains. "Check out the YouTube channel, the Facebook page, and find out what their students are saying about studying on that campus."
Boyd says if you're thinking of studying in a country that's only starting to welcome international students, it's vital to ask searching questions about the quality of teaching, or you could waste precious time and money. You also need reassurance that the degree you finally get will travel – so check the accreditation, and make sure that the qualification will be accepted in the UK.
There are, of course, distinct benefits to studying in a country just emerging as a player in the higher education market: a degree in China, Boyd says, "is way cheaper" than here, with courses costing around £3,000 a year. Of course you then have to factor in flights, visa costs and health insurance, as well as the many incidental expenses that are an inevitable result of living somewhere unfamiliar and far away from home.
But an international degree can give an edge in a crowded employment market. "Just studying abroad makes you different," says Boyd, "Around 22,000 students go overseas – but a degree from China or Malaysia would really make you stand out."
[Source:- Gurdian]