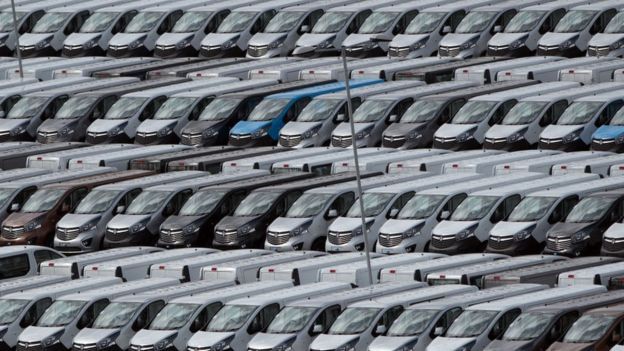 Speaking to the BBC, Carlos Tavares said the carmaker's "number one" request of Brexit talks was free trade.
Mr Tavares is chief executive of PSA, which bought Vauxhall and Opel last yearand has operations in Ellesmere Port and Luton.
He said: "If we don't have free trade conditions then of course we will have to adapt".
"That may have dramatic consequences for our operations in the UK, which of course we would like to avoid as much as possible.
"So for us the situation is crystal clear, we need free trade. That's the number one request," he said in an interview at the Paris Motor Show.
The PSA Group – which also owns Peugeot and Citroen – employs 3,000 people in the UK, including 1,225 at the Luton plant and 1,100 at Ellesmere Port.
Other carmakers have also warned about the impact of a no-deal Brexit, as delays to supplies could affect their "just in time" production models.
Ralf Speth, the head of Jaguar Land Rover (JLR), told Reuters at the Paris Motor Show that it could move its annual summer-time shutdowns to the spring to handle any disruption from a disorderly Brexit.
Rival carmaker BMW has already said it will close its Mini plant in Oxford for a month following Brexit.
Mr Speth told Reuters that JLR was also considering holding more parts in preparation for Brexit. He has previously warned that a "bad" Brexit deal would threaten £80bn worth of investment plans.
Also speaking at the Paris Motor Show, the head of Toyota Motor Europe told the BBC that a no-deal Brexit would affect the firm's investment decisions. Last week Toyota UK warned that a no-deal outcome would temporarily halt output at its plant in Burnaston, near Derby.
Here in Paris, the talk of the motor industry is all about the Big Picture. That means electrification, automation and shared use – the technological and cultural revolution that's already under way.
Executives are also deeply concerned about the trade tensions triggered by the Trump administration – although the new deal the US has reached with Canada and Mexico is seen as a generally positive development.
Those are the priorities. So what of Brexit? Well, for the manufacturers who build cars in the UK, it's a headache they'd clearly prefer not to have. But since the referendum they've generally remained pretty upbeat.
Now, a change of tone is creeping in. The prospect of a no-deal Brexit is being taken increasingly seriously. Contingency plans are being made and warnings have been sounded.
Is it scaremongering? Executives here say they're simply being realistic.

Production 'impact'
The European head of PSA, Maxime Picat, told Reuters the company had been doing all it could to develop its UK business, but there were limits.
"Those limits are customs barriers and the loss of freedom of movement, for people and goods. If we get to that point, we will be obliged to take measures.
"If we suddenly have to start manufacturing for the UK in the UK, and Europe in Europe, there will necessarily be an impact on production.
"We're not going to be dogmatic about it and there's no question of punishing the UK. We'd take a look at our two factories, the state of our business and look for a solution. But I don't know where that will lead us in terms of the sustainability of our sites," Mr Picat said.
In March, Mr Tavares said the lack of clarity about Brexit undermined Ellesmere Port's chances of getting more work after 2021.
source:-bbc