The illustrious career of Usain Bolt ended in dramatic fashion on Saturday as the sprint icon pulled up with an injury in his final race, the men's 4x100m final at the World Championships in London.
Bolt sensationally failed to finish the anchor leg for Jamaica, an apparent hamstring injury ending his hopes of bowing out with a 12th World Championships gold medal. Great Britain instead took gold ahead of the United States and Japan.
There had been disappointment for Bolt in London last weekend when he had to settle for a bronze medal behind Justin Gatlin and Christian Coleman in the 100m, his last individual race.
However, Bolt nevertheless ends his career as an undoubted great – having transcended his sport and made history on numerous occasions.
Following his last outing, we take a look at the numbers that highlight his stunning success.
9.58 – Bolt's blistering 100 metre world-record time, set in the 2009 World Championships final.
22 – How many years Michael Johnson held the men's 200m record of 19.32 seconds, before Bolt broke it in 2008 in Beijing – a benchmark he has since lowered to 19.19secs.
19 – Major gold medals Bolt has won in his career, having had his 4x100m relay title from the 2008 Olympics revoked due to Nesta Carter's doping violation.
View image on Twitter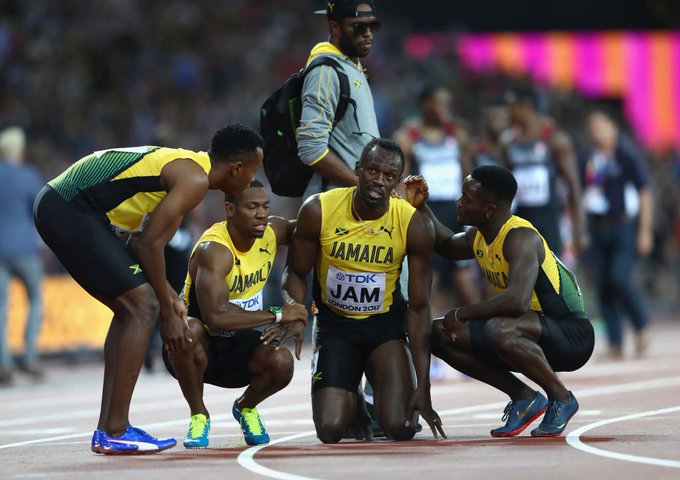 27.79 – Bolt's top speed in miles-per-hour, between the 60m and 80m marks, as he set his world-record 100m time in 2009.
36.84 – The world-record time he and his Jamaica team-mates clocked in the 2012 4x100m relay Olympic final.
7 – The number of times Bolt has set a world-record time across his specialist events.
6 – Bolt's record tally of IAAF World Athlete of the Year awards.
34.2 million – Bolt's estimated yearly earnings, in dollars, by Forbes, who calculate him to be the 88th best-paid celebrity in the world – in between Real Madrid footballer Gareth Bale and NBA star Derrick Rose.
[Source"cnbc"]