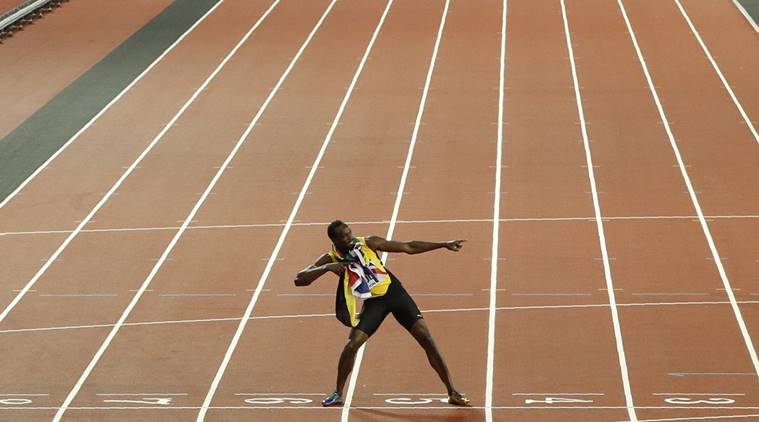 Usain Bolt drew curtain on his 100 metres career at the IAAF World Athletics Championship by clinching the bronze medal in London – the venue for his Olympic record in 2012 – by registering a time of 9.95 seconds. He was stunned by an emotional Justin Gatlin of USA and Christian Coleman of USA who took home the gold and silver medals respectively with times of 9.92 and 9.94 seconds. Bolt was eyeing a fourth gold medal at the World Athletics Championship. However he will look to finish on a high next week with the sprint relay team event.
"It wasn't a perfect race. My start let me down … it's just one of those things & it happens. It was brilliant, a great career," said Bolt in an interaction with French TV after the race.
Gatlin who has been drawing jeers for his doping suspensions over the years was booed in the semifinals and then once again in the finals but he came good when it mattered most. The former world and Olympic champion Gatlin who stumbled at the death to lose the 2015 world final to Bolt, timed his surge and dip to perfection. Later while speaking to the BBC he said, "I stayed the course and kept my energy through the semis and into the finals and did what I had to do. The people who love me, are here cheering for me, they're at home cheering for me and across the country are cheering for me. And that's all I focused on."
"It's a surreal moment. I thought about the things I would do if I did win and I didn't do any of that. It was like 2004 all over again. I won by a little margin and be able to cross the line is exciting. It still has been an amazing night because it is Usain Bolt's last race. To have so many victories and so many losses but to be able to run against him through the years, is an amazing night," he added on an emotional response at the end of the race.
"We're rivals on the the track but away from it and when we're not competing, we just have a good time and joke with each other. He said 'Congratulations! You've worked hard for this. You don't deserve all these boo's.' I thanked him for that and thanked him for inspiring me throughout my career. He's an amazing man," said Gatlin.
In the semifinals earlier, Bolt only qualified for the finals after finishing second in Heat 3 with a time of 9.98 qualified. He finished only 0.01 seconds slower than Coleman in the third heat. In the end, Coleman's time of 9.97 seconds was the best of the semifinals with Bolt finishing second. Other key contenders for the medals were Yohan Blake (10.04 seconds), Gatlin (10.09 seconds). Gatlin matched Coleman's 9.92 seconds which was the season's best coming into the Championship. On the same day, Bolt had been beaten twice and it was only the first time in four years that Bolt had been beaten in 100 metres.