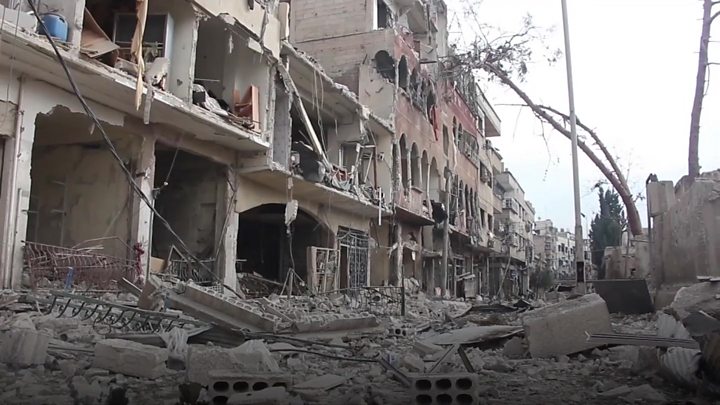 Russia's President Vladimir Putin has ordered a daily pause in the assault by its ally, the Syrian government, on the rebel-held Eastern Ghouta area.
It will start on Tuesday, and include the creation of a "humanitarian corridor" to allow civilians to leave.
The rebel enclave near Damascus, where 393,000 civilians are trapped, has been under intense bombardment by government forces with Russian support.
More than 550 people have been killed in eight days, a monitoring group says.
Russian Defence Minister Sergei Shoigu made the announcement about the "humanitarian pause", saying it would run from 09:00 until 14:00 local time (07:00-12:00 GMT) daily.
He said more details on the corridor would be released soon.
Life in Eastern Ghouta – read residents' stories
Syria conflict: Will powers end up in direct war?
Why is there a war in Syria?
The United Nations Security Council unanimously called for a nationwide 30-day cessation of hostilities on Saturday.
The resolution demanded that "all parties cease hostilities without delay" to allow aid deliveries and medical evacuations.
Russia had been accused of delaying the UN vote for several days by asking for changes to be made to the draft.
UN Secretary-General Antonio Guterres has described the situation in the Eastern Ghouta as "hell on Earth", and demanded immediate action.
What is the aim of the UN resolution?
The UN resolution applies to the whole of Syria, although the focus is on stopping government attacks on the Eastern Ghouta.