Usdaw calls for talks with British Retail Consortium amid concerns women could bear brunt of predicted 900,000 job losses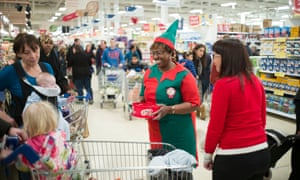 Female workers will be disproportionately hit if a prediction of almost 1 million job losses from the UK's retail sector becomes a reality, the industry's trade union has warned.
Usdaw, the shop workers union, has written to the British Retail Consortium seeking urgent talks over a report from the trade group that suggested retailers could shed up to 900,000 jobs and close thousands of shops by 2025, as they adjust to rising labour costs and changing technology. The report said the jobs that survive would be more productive.
The dominance of women in the sector has raised concerns about them bearing the brunt of job losses. The BRC's report said women made up 70% of lower-paid people in the retail workforce – those earning less than 20% above the minimum wage.
Usdaw's general secretary, John Hannett, said the union was pleased to see the BRC "has recognised that low pay is an issue in the sector". But he wanted more detail on what lay behind the 900,000 job loss prediction and its implications for workers.
"We are convinced that if the job losses come through in those numbers, there will be a bigger impact on women than men," he added. "We are looking for urgent talks with the BRC to understand where they are coming from on this. What's the rationale behind their predictions and how will they work with unions like ours to deliver high quality, better paid jobs?"
Women make up almost two-thirds (64%) of the membership of Usdaw, which is running a campaign for better support for parents and carers. Hannett said growing numbers were reporting being under pressure from the changing nature of the retail industry and struggling to balance caring responsibilities with employers' demands in a "24/7 working environment".
He also warned retailers against the pitfalls of reducing staff to cut costs in a service industry. "Cutting back on staff numbers to make cost savings is a false economy. Shopworkers are vital in providing positive customer experiences and short-staffing has an adverse impact on customer service levels," Hannett said.
The BRC has echoed other employer groups in warning about rising labour costs. It said the impact of a new apprenticeship levy on employers and the "national living wage", which launches in April, could increase the rate of retail job cuts.
But it also highlighted a potential shift to higher quality jobs. The BRC chief, Helen Dickinson, added: "We hope to see technology and competition resulting in better experiences for the customer and better jobs for those working in retail."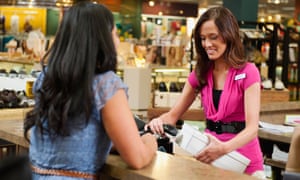 Responding to the BRC report, the Resolution Foundation thinktank was more upbeat about the impact of the "national living wage", announced by George Osborne last year, on women working in the retail sector. Its own research has found more than 3.5 million women – almost 30% of the female workforce – were set to receive a pay rise as a result of it.
The tendency for women to work in low-paying sectors such as retail, hospitality and social care meant they would receive 61% of the benefits of changes to the minimum wage, which will rise by 50p to £7.20 for the over-25s in April.
Matt Whittaker, chief economist at the thinktank, noted its finding that employers were showing little appetite for cutting staff levels as a way to cope with higher labour costs.
"The BRC report highlights a number of issues facing the sector, and the national living wage will focus retailers minds' on how to respond to these challenges," said Whittaker.
"Encouragingly, our work with employers has shown there is strong appetite for businesses to focus on productivity improvements, rather than look to reduce staffing levels."
[Source:- Thr Gurdian]