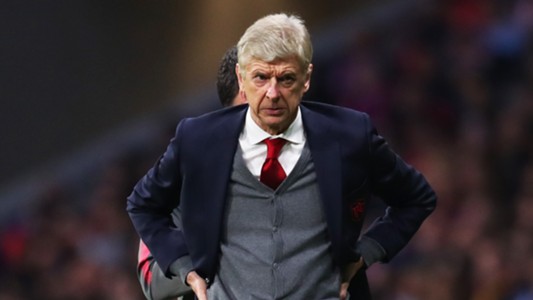 On Tuesday night, Real Madrid reached the final of the Champions League for the third year in a row and yet the post-match debate centered on whether Zinedine Zidane's side were the luckiest in world football.
Certainly, the common consensus had been that Los Blancos had pulled off another great escape, having been second best in both legs of their 4-3 aggregate win over Bayern Munich, just a few weeks after scraping past Juventus in the quarter-finals with a controversial injury-time penalty.
However, there is no denying that Real always seem to find a way to win , particularly in Europe. How Arsene Wenger would have loved to discover the secret of Madrid's success.

By complete contrast to Los Blancos, the Frenchman's sides have always found a way to lose in Europe.
They were at it again against Atletico Madrid. A goal and a man up during last week's first leg at the Emirates, they somehow conspired to draw the game 1-1, with a series of defensive errors allowing Antoine Griezmann to nick a crucial late leveller for the Spanish side.
Then, on Thursday night, Arsenal recovered well from the early loss of their captain, Laurent Koscielny, to injury only to see Hector Bellerin switch off just before the break to allow Diego Costa in to decide the tie in Atleti's favour.
Arsenal's elimination means that Wenger, who will leave the club at the end of the season, remains without a European trophy, after 34 years as a coach. That is a shocking record for one of the game's most respected managers , the mastermind behind 'The Invincibles', one of the greatest sides in English football history .
There have been three near-misses, of course.
In 1992, Wenger led an exciting young Monaco side containing the likes of Emmanuel Petit, George Weah, Lilian Thuram and Youri Djorkaeff to the final of the Cup Winners' Cup but they were beaten 2-0 in Lisbon by Werder Bremen.
At Arsenal, meanwhile, Wenger was left heartbroken by both the penalty-shootout loss to Galatasaray in the final of the 2000 UEFA Cup and, even more gallingly, the 2-1 defeat by Barcelona in the 2006 Champions League decider.
The Gunners had played against just 10 men for almost all of extra-time against Gala, following Gheorge Hagi's 94th-minute dismissal, but Wenger made light of that fact afterwards.
"It was not a huge advantage for us," he claimed. "Sometimes you defend better with 10 men because everybody is focused."
However, when a 10-man Arsenal eventually succumbed to Barcelona in Paris six years later, Wenger bemoaned his side's lack of "concentration" for the two late goals that decided the game.
In fairness to the Gunners, they had been comfortable until super-sub Henrik Larsson teed up Samuel Eto'o for the equaliser and would have killed the game had Thierry Henry taken an excellent chance to make it 2-0 after being put in on goal in the 70th minute.
Indeed, Barcelona's Giovanni van Bronckhorst – formerly of Arsenal – admitted to Wenger after the full-time whistle, "If you had scored the second goal, we would have given up."
Despite his obvious disappointment, Wenger had rather understandably declared afterwards, "We will be back, of course. I believe this team has grown a lot this season.
"We have plenty of good young players behind this team. We are already strong and sometimes if you can transform your frustration at defeat in such a game as this then you can come back stronger – and we will do that."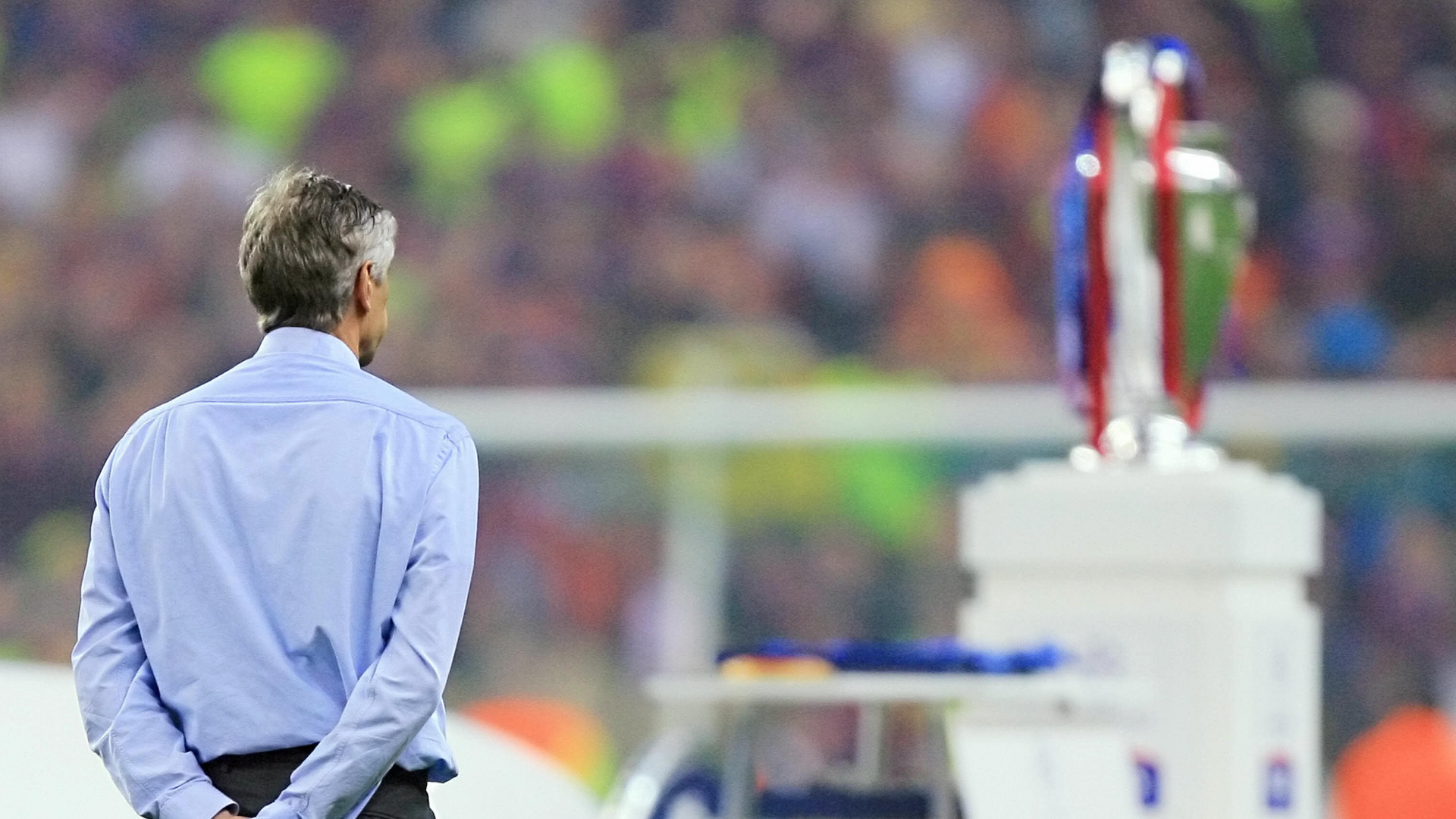 Only they didn't. In the 12 years that followed, Arsenal didn't come close to reaching another Champions League final, routed 4-1 on aggregate by Manchester United in their one and only semi-final appearance, in 2009.
Wenger has never hidden the fact that he remains racked by regret over the Barca defeat ("We were 13 minutes away from winning the biggest trophy. Maybe I will just have to die with that – but it will always hurt.") but that second-leg loss to United at the Emirates, which saw the Gunners concede twice in the opening 11 minutes, ranks as the "most disappointing night" of his career.
It certainly didn't reflect well on Wenger, whose lack of tactical variety was brutally exposed by his great rival Sir Alex Ferguson.
For years, the Scot had been a staunch advocate of the 4-4-2 formation that had helped him put United back on top of English football in the early 90s and then claim a treble in 1999.
However, as the game changed, so did Ferguson, who was so impressed by what he saw of Luciano Spalletti's striker-less Roma side that be created a United team with a very fluid attacking front three of Cristiano Ronaldo, Wayne Rooney and Carlos Tevez.
It was that attacking triumvirate that inspired United to Champions League glory in 2008. However, their success was also founded upon a rock-solid defence.
Wenger, though, hasn't constructed a world-class backline in more than a decade, which is why they have repeatedly failed to triumph in England, let alone Europe.
Indeed, there are many who argue that had Wenger not inherited George Graham's brilliantly-drilled defence of Lee Dixon, Nigel Winterburn, Martin Keown, Tony Adams, Steve Bould and David Seaman, then even his early success in the Premier League may not have materialised.
Certainly, it is no coincidence that in the two years before Wenger arrived, Graham's Arsenal beat a superb Parma side to win the European Cup Winners' Cup and went agonisingly close to defending their crown only to succumb to Nayim's last-gasp wonder-strike in the 1995 tournament decider in Paris.
Wenger undeniably revolutionised English football, in terms of tactics, diet and preparation, but once the rest of the Premier League caught up, he failed dismally to add any variety to Arsenal's game, which is why haven't won the title since 2004.
It is also why their annual last-16 exits in the Champions League (six in a row up until 2016-2017, since when they have failed to qualify) became as painfully predictable as their tactics. The Gunners were easy on the eye but even easier to beat.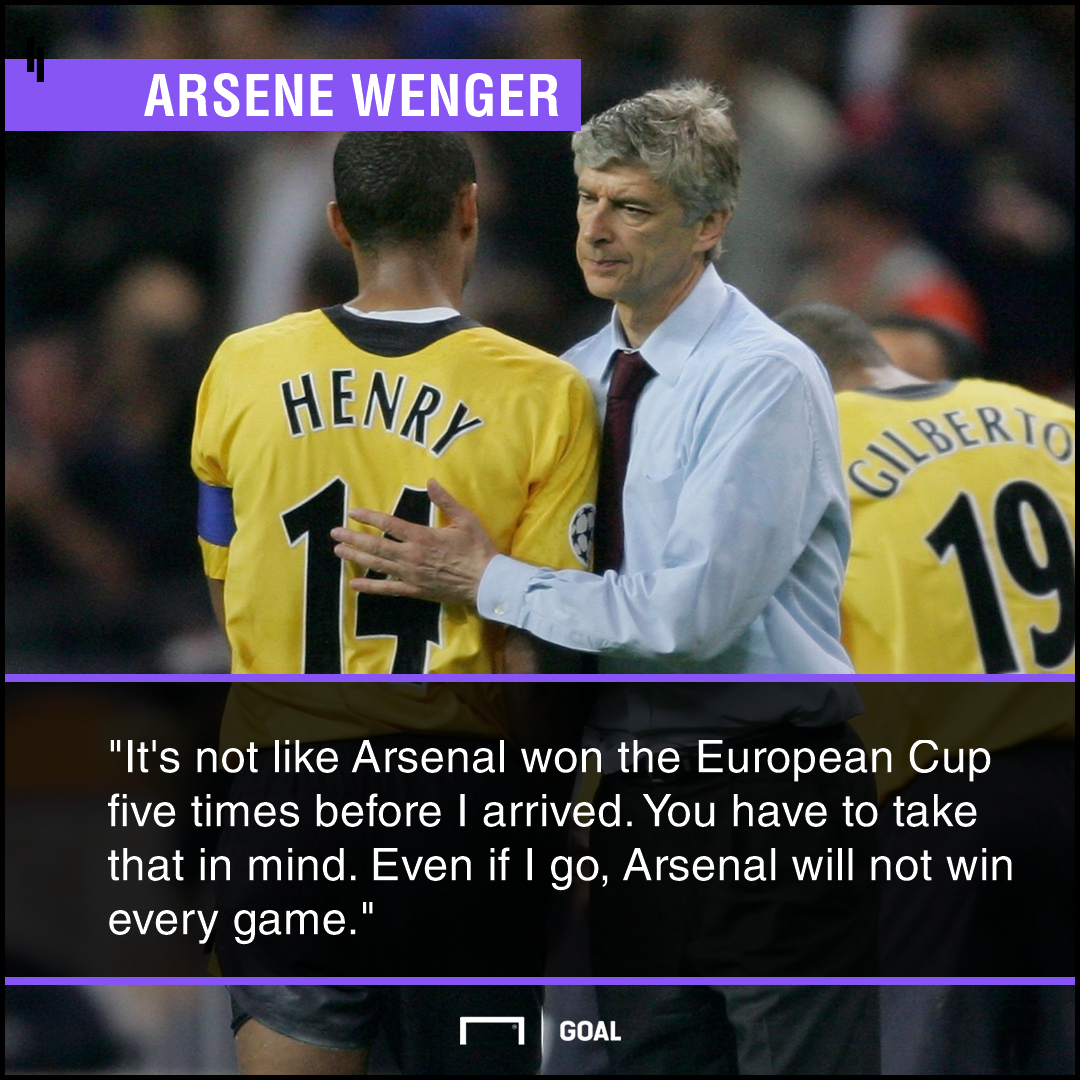 Wenger has defended his lack of European silverware at Arsenal by arguing, "It is not like they won the European Cup five times before I arrived. They had never won the European Cup. You have to take that in mind. Even if I go, Arsenal will not win every game."
That is true, but they also might have a better chance of triumphing on the continent now that he is going.
Admittedly, it is worth mentioning that Wenger hasn't always been working with the same resources as United, Bayern, Real Madrid or Barcelona.
But then, neither has his rival on Thursday night, Diego Simeone – and yet, since taking charge of Atletico in 2011, he has led the club to two Champions League finals and is now bidding to win a second Europa League.
In short, Simeone has achieved more in Europe in seven years than Wenger has in 34.
In that sense, it is sadly impossible to judge Wenger's European career as anything other than a massive failure.
["Source-goal"]