International students get quizzed on the policies of their home countries – but it's sometimes hard to give answers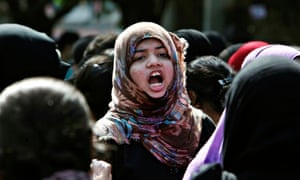 As an international student from India, I have become an involuntary representative of my nation at university. In social situations, I am persistently expected to defend my country's actions, rationalise its every move and vindicate every statement of its politicians.
Being expected to defend your homeland and understand the political situation there is part of being an international student.
Pupul Chatterjee, a recent graduate from Birmingham City University, says: "This annoyed me a lot during my first few months in the UK, but I now see it in a different context. If you look at this from the point of view of a person who has never been to India, it seems quite understandable."
Recent general elections in India caused tension in my social circle. The rise of a Hindu nationalist party with an overwhelming majority of votes was widely reported in the British media, mostly in a negative context.
Narendra Modi became the 15th prime minster of India – despite being an alleged accomplice in a Hindu-Muslim riot and in several extra-judicial killings.
The party won with an absolute majority and I was bombarded with queries. Why did Indians choose to ignore the tarnished past of a prime ministerial candidate? I don't know. Will this mark as the era extremism in India? I have no clue. Is my country heading towards a non-secular disposition? I don't think so.
Charlene Zheng, a Chinese student at University of Sussex often finds herself answering questions about press censorship in China. She says: "These things are complicated. It's really hard because you want people to understand rather misinterpret, so I try my best to explain."
Even if I manage to dodge questions on politics, it's harder to avoid debate on rape culture in India. Rape stories make headlines almost every day and worry foreign nationals and Indians equally. In a recent horrific rape incidence, two women were raped in north India and hanged on a tree. The story was followed by a lurid commentary on rape by a politician who said: "Sometimes it's right, sometimes it's wrong" – further damaging the country's reputation.
While as an Indian I am embarrassed that these events have happened in my country, I don't know what to tell British friends who ask me if it's really so bad to be a woman in India.
"Thankfully most people understand that individuals cannot be held responsible for a country's actions," says Sheena Ahluwalia, a postgraduate student at University of Brighton.
"However, I do find myself explaining to people that living or travelling in India is not so unsafe as it is conceived to be," she adds.
It is hurtful to me to know that my peers in the UK have such a bad view of India, but it's true that some of the most brutal rapes happen there – in fact it has been reported that one incidence of rape happens every 20 minutes. I therefore choose not to allow my loyalty to my country to cloud my judgement.
One of the most persistently raised issues in conversations I have had with my peer group is that of caste system in India. UK students curiously ask whether people are still discriminated on the basis of their caste in India, if untouchability is still practiced or whether the lower stratum of social division is still persecuted.
Knowing that I can come up with counter arguments or contrasting figures or raise questions about social issues grappling Britain as a defense tactic, I instead choose to acknowledge the problems rather than dismiss them.
Rizan Khan, a media student in Birmingham, says: "I am a representative of my country, so it my responsibility to answer people. In fact, it's a collective responsibility to spread awareness about our country."
As overseas students we cannot overlook the problems faced by our home countries, whether in the form of caste inequality or gender violence. As Ahluwalia puts it: "We need to show our culture through our actions and educate people by means of healthy discussions."