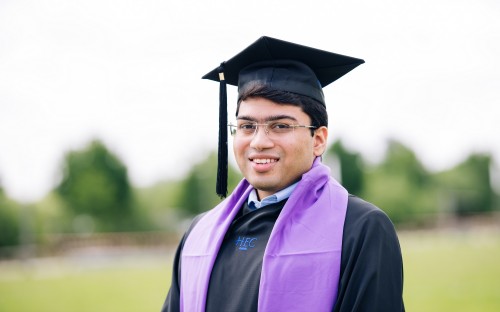 Izaan Allugundu Mohammed grew up in Dubai before venturing to Singapore for his bachelor's degree in engineering—he spent his career after graduating as an operations analyst for Apple, before moving into strategy at HP.
He left Singapore though, in December 2016, in search of the skills that would enable him to successfully move into consulting in the country of his upbringing.
The MBA at HEC Paris was his calling, and he knew the curriculum taught there would enhance his skills and put him in an advantageous position when it came to finding work in the Middle East.
But the pendulum of career success does not swing on academic knowledge alone. Izaan understood the importance of a strong network, and he tapped into HEC Paris's worldwide presence by organizing a career trek to Dubai as part of the MBA Consulting Club. "There are a lot of alumni who work in consulting in the Middle East," he explains.
The trek began with the fifth annual gala for the local HEC Paris alumni chapter, held at Dubai's Burj Al Arab Jumeirah hotel, where Izaan says he and his MBA peers networked with more than 135 HEC Paris alumni who are now working as consultants—for Bain, Boston Consulting Group, and AT Kearney— or as entrepreneurs or as associates at the National Sovereign Wealth Funds.
The whole trip, he adds, was a lesson in the importance of networking and gaining first-hand experience of the real business world. The list of company visits was a Who's Who of multinational firms seeking hungry MBA students to augment their offerings around the world.
Izaan recalls the value of visiting Emirates, Henkel, and Schneider Electric, alongside trips to the offices of Simon-Kucher, EY, McKinsey, Strategy&, and Monitor Deloitte — the strategy consulting arm of Deloitte.
It was while at Monitor Deloitte that Izaan formed the bonds that would eventually lead to a concrete job offer. He starts working for the company's Dubai office in September.
The consulting firm actively encouraged Izaan and his visiting classmates to apply for positions. It was during the application process that Izaan learned how valuable it is to actively form relations whenever the chance presents itself during the MBA.
"I was flown down to Dubai a few months later for Monitor's final round of interviews," he recalls, "when I walked in, the interviewer immediately said, 'Oh, I remember seeing you during HEC's trek'!"
"People remember us by sight, and that is important. They then know that we are deeply interested in Dubai and in their company."
The trek has also helped other participants from the HEC Paris MBA land job offers or internships at AT Kearney, Bain, Parthenon-EY, Simon-Kucher, and Emirates.
What also helped Izaan attain his job, he explains, were the professors he learned from during the HEC Paris MBA's Strategy Specialization—industry practitioners with direct experience in the real-world of consulting.
Olivier Sibony, for example, a former partner and director at McKinsey's Paris, Brussels and New York offices, gave a seminar on 'Problem Solving & Communication', and a course on 'Behavioral Strategy'. "These were instrumental in teaching me how to think and communicate in a structured manner, as consultants do," says Izaan.
Helene Musikas, a former manager at McKinsey and Bain, taught Izaan during a course on 'Management Consulting and Strategy Implementation'—helping him form an understanding of the frameworks and solutions consulting firms typically use to help solve clients' challenges.
"I used these concepts during the interview process at Monitor, and I believe that was key for me in securing the role. It's so competitive, so to stand out you have to speak and act like a consultant."
So, why should HEC Paris MBA students look to consulting in the Middle East as a viable career option? "If I went into consulting in the US, I'd be working to optimize or improve the performance of a company," Izaan says. "The work I'll be doing in the Middle East is much more encompassing."
As a consultant in the Middle East, Izaan explains, a person could be asked to work on a countrywide project, to improve an education system for example. "Another could be the need to improve talent coming into the country, so you need to build a city [for that talent]," Izaan beams. "We're actually helping build a city from the ground-up—it's happening in Saudi Arabia right now!"
["Source-businessbecause"]