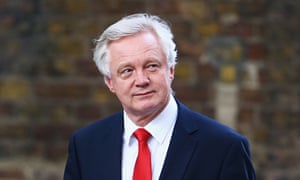 David Davis is being urged to protect a £112m EU student exchange scheme, due to fears the UK will be locked out of the programme after Brexit.
The Erasmus programme's leaders fear it will not be front of mind in Brexit negotiations and the scheme, which has been going for 30 years, will disappear.
"We do really want there to be prioritisation on the Erasmus Plus because it is important – it has a direct impact on the students and the economy," said its director, Ruth Sinclair-Jones, who is based at the British Council.
The Erasmus Plus programme allows students to study in one of 33 European countries for free for up to one year, with EU funds covering costs.
With universities waiving fees as part of the scheme and the EU picking up the tab for travel and living expenses, it is one of the biggest sources of funding for studying abroad.
More than 200,000 students have benefited from the scheme and its predecessor, the Erasmus programme, which was launched in 1987.
In the last academic year alone, 15,500 UK students have participated, with another 7,000 staff also studying abroad.
Among the Erasmus alumni are Jo Johnson, the minister for universities and science. He is expected to support efforts to maintain it beyond Brexit.
"As a student in Belgium and France I was able to brush up on my language skills and experience life in another country. I want everyone to have that chance," hewrote in the Guardian in June.
This year's €130m budget to cover UK students overseas has already been agreed by the UK, and funding is projected to rise 10% a year until the end of the current EU funding cycle in 2020.
Sinclair-Jones said it was a hugely popular scheme in the UK and over-subscribed by a factor of two to one. She argued the economic benefits were tangible for the UK in terms of future employability.
According to the European commission's Erasmus impact study in 2014, young people who study or train abroad are twice as likely to find employment quickly. The study of 80,000 students showed that the unemployment rates among Erasmus students was 23% lower after five years than for students who did not study abroad.
"It is hugely popular in the UK and the results of surveys demonstrate the benefits. Students really shine through, their maturity and self-confidence is stronger. Their academic results are higher, there is lower unemployment and higher wages five years on," said Sinclair-Jones.
One option for staying a member of the scheme as a non-EU participant would be for funding to come directly from the exchequer and universities – in the same way as Macedonia, Iceland, Turkey, Liechtenstein and Norway.
Davis, the Brexit secretary, declined to guarantee that the UK would continue to participate in the programme post-Brexit when asked by Labour MP Diana Johnson in July.
Neil Carmichael, Conservative MP for Stroud and chair of the parliamentary education select committee, said maintaining the links and opportunities between European institutions was going to be of huge importance to a Brexit Britain.
[Source:- The Gurdian]