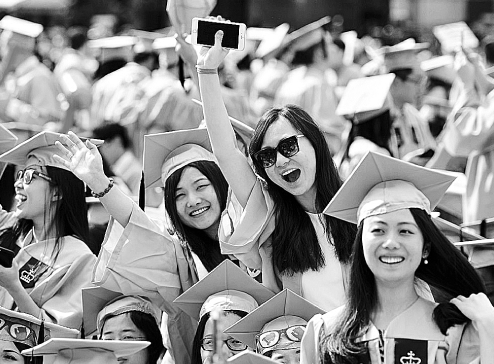 The number of Chinese doctoral and postdoctoral students in the US who are returning to China is growing, enticed by government support, a strong economy offering more jobs at higher pay and innovation-driven development, reports Zhang Ruinan in New York.
Lei Ting, a postdoctoral scholar at Stanford University, has been flying back and forth between Beijing and the US this past year.
Planning to become a teacher at Peking University and continue his research project there, Lei is attracted to China because of its strong economy and rapid developments in innovation, as well as the country's constant efforts to support overseas talent willing to go back.
Although there isn't a huge amount of Chinese doctoral and postdoctoral students returning to China from the US, the number is growing. They are returning for a variety of reasons, from being homesick to getting financial rewards from the government and opportunities for better jobs with higher pay.
In 2013, the American National Science Foundation reported that 92 percent of Chinese graduates who earned a PhD in America still lived in the US five years after graduation.
From 2008 to 2015, only 3.5 percent of returnees held doctoral degrees, according to the Report on Employment & Entrepreneurship of Chinese Returnees 2017 conducted by the Center for China and Globalization. In 2016, that figure was closer to 11 percent.
The term "sea turtle" has long been used in China to refer to people who have returned home after studying abroad for several years. These overseas-educated graduates make up a privileged cohort in Chinese society and have traditionally been difficult to attract back.
However, according to the latest statistics published by the Ministry of Education, about 540,000 Chinese went to study overseas in 2016, with about 430,000 returning. Compared to 2011, 2016 saw a 37.61 percent increase in the number of Chinese studying abroad and a 56.95 percent increase in returnees.
'Returning Tide'
The repatriation of PhD students who have studied abroad is part of what's called the "third students' returning tide".
"In my opinion, China has more opportunities than the US regarding new technology," said Lei, the postdoctoral scholar who got his bachelor's and doctoral degrees at Stanford under the "Thousand Talents Plan".
"In the past few years, I've been working on a research project that is based on a novel graphitic carbon material with an ultrahigh surface area," said Lei, who studies organic electronic-device fabrication.
"An extremely large and often still growing share of electronic and technology supply chains are anchored in China.
"Thus, China is the best place to get my project into production with strong government support for innovation and research and more opportunities for investment."
Lei's project has been funded by the Beijing Institute of Collaborative Innovation, which was founded by 14 of China's top colleges including Peking University, Tsinghua University and the University of Science and Technology of China. They have been joined by more than 100 industry-leading companies such as BOE Technology Group and ENN Energy Holdings with strong support from the city of Beijing.
According to a recent report by New York-based Preqin, a data-intelligence company, more than $65 billion in venture capital investment was made in China last year, a 35 percent increase year-on-year and an all-time high, second only to North America with $77 billion.
Besides China's funding for capital investments and the large potential market, Lei was also attracted by the Recruitment Program of Global Experts – known as the Thousand Talents Plan. It was initiated by the Chinese government at the end of 2008 and its aim is to bring top overseas talent to China over the next five to 10 years.
Programs such as the Made in China 2025 strategy and "the mass entrepreneurship and innovation" initiative are targeting elite overseas talent willing to return and launch their startups or businesses.
Lump sums of about $75,000 are being offered by the central government, with research subsidies ranging from $150,000 to $450,000 depending on the program's level and quality.
Lei said the talent plan offered him funding for his research and a competitive salary for a position at Peking University. "The salary is equal to $80,000 to $100,000, which is the amount you might earn as a teacher here in the US," he said, adding that more and more talent is being attracted by the programs.
"Six years ago, there were only hundreds of applicants for the Thousand Talents Plan and now there are thousands – the competition is fiercer."
Recruiting Talent
"Although the environment for research in the US is still better than China, the government is making constant efforts to improve conditions for doing research," said Zhang Shiyi, who received his postdoctorate in biological and mechanical engineering from the Massachusetts Institute of Technology.
Zhang also benefited from the Thousand Talents Plan in 2015 and decided to join the nanobiomaterials department of Shanghai Jiao Tong University as a teacher and researcher.
"In the US, researchers and professors are facing funding shortfalls, but in China, they are facing the difficulty of recruiting talent," he said.
Zhang said many Chinese PhD candidates and postdoctoral scholars at US universities no longer see becoming a faculty member at a US university as their first option.
"I've been back in China for a year and I'm glad that I decided to return – especially since I have more time to spend with my family and friends now," he said.
Besides leadership, professional or technical positions in universities and research-and-development institutes, the Thousand Talents Plan also covers talented people willing to work at State-owned enterprises and State-owned commercial and financial institutions.
"While overseas Chinese students once coveted a full-time job in Silicon Valley and a green card, now they look to career opportunities back in China," said Jay Wu, the co-founder of Global Career Path, a startup based in Silicon Valley that specializes in matching talent in the US with Chinese businesses. "This is because the Chinese government has been heavily investing in technology and innovation, which encouraged lots of Chinese companies to expand globally and make efforts to develop their own technologies – where the top overseas talents are becoming a driving force and key factor," he said.
Global Career Path has been matching Chinese overseas talent in the US with Chinese tech titans such as JD, Alibaba, Tencent and Huawei since 2015. "These companies are specifically looking for PhD students with strong technical backgrounds and engineers who have worked in Silicon Valley for an extended period of time," said Wu.
He said that while undergraduate and graduate programs at top Chinese universities are as well-developed as universities in the US, PhD programs and postdoctoral programs in the US are still more advanced than those in China.
"Students with a PhD or higher degrees are more attractive because they have more experience in research and development and they can also bring a global vision and thorough understanding of the most advanced cutting-edge technologies," Wu said. "And at the same time, they are also attracted by the Chinese government dangling financial incentives for technology innovations and the rapid development of Chinese tech giants."
A Sense of Home
"(Chinese companies) are offering faster-growing salaries, more opportunities to get to management level if you have obtained higher degrees such as a PhD or MBA, and at the same time you can be closer to your family and friends – a sense of home," said Jacky Chen, a PhD student in computer science at the University of California, Berkeley, who has stayed in the US for about seven years since starting his undergraduate studies.
He said that China has made huge progress in technological innovation in the past few years. "Every time I went back to China, I saw so many changes – the rapid growth in mobile payment, share bikes, e-commerce and especially artificial intelligence … I was surprised and also want to participate in it," Chen said.
As an engineer, he said what attracts him most about returning to China is the announcement that billions will be invested in artificial intelligence.
The total output of China's information-technology industry grew by 10 percent year-on-year in 2016. And while overall GDP growth has slowed in more recent months, large tech companies such as Tencent and Alibaba are still expanding exponentially. The two companies are now worth more than $1 trillion combined.
"Chinese companies are catching up really fast. One of my friends who graduated last year decided to take a position at Alibaba in Hangzhou because big companies like Alibaba, Baidu and Tencent are offering very competitive salaries – as much as Google and Amazon offer here in the US – to attract outstanding engineers to join their research and development departments," said Chen.
He said he had started to look for positions in China and attended several job fairs in the US hosted by Chinese companies.
"If I cannot find my dream job in China, I will consider applying for jobs with Tencent and Baidu's US labs, and then relocate to China, or join tech startups in China – they are growing really fast," Chen added.
"It's easy to find big career opportunities in China for PhD talent, especially at prestigious universities. The companies in IT, manufacturing, energy, medicine, (and the) chemical industry have a strong need for this sort of talent," said Ge Wei, a manager with Lockin China, an overseas recruitment company.
Stay a Little Longer
Many Chinese PhD holders at top American universities want to stay in the US after they graduate, at least for a few years. Wang Minzhe is one of them.
"For students in our major, I think there are few students choosing to return directly after they graduate," said Wang, who is in his third year of a doctoral program at the University of Chicago. "I still prefer to stay in the US, at least for a few years to accumulate some working experience before I go back to China."
Wang obtained his undergraduate degree in mathematics and physics from Tsinghua University and a graduate degree in statistics from Stanford University. Now he works on topic modeling and nonnegative matrix factorization at the University of Chicago and hopes to become a data scientist after graduation.
"It's true that China has been catching up very fast with the US in terms of innovation and technology," he said.
"But still, the most cutting-edge research and developments are in the West, especially for technology innovations."
Wang said he thinks if he can work for a leading tech company in the US, it will give him more choices for his career development.
"Everyone knows there is a glass ceiling for Chinese employees in the US, especially in tech companies," he said. "But it's also true that for entry-level positions, the US companies offer more attractive salaries and benefits."
Source:-.womenofchina